Travel Info
Visit AtoZion.com before you visit to find lodging, dining, and activities near Zion and the greater St. George Area. They are a comprehensive resource to help you make your travel plans.
We want to help you make the most out of your vacation. Here are some helpful links to some of our sponsors as well as general information. We'll be updating the links below as we get closer to race day.
Important note: There will not be shuttles taking runners from Springdale to the race start or finish. If you plan to stay in Springdale, expect about an hour drive race morning and provide your own transportation.
Getting to Zion
You have a few options for getting to Zion for the race. All hotels in Springdale are very used to travelers, so feel free to ask them their opinions as you book your hotels. Below are some guidelines and suggestions.
Driving
If you are driving from Arizona:
From most places in Arizona your best bet is to take Highway 89 all the way to Mt. Carmel Junction. From there you can take Highway 9 the rest of the way.
An even prettier drive is to take 89A over Marble Canyon, past Lees Ferry, and right along the Vermilion Cliffs. If you have an extra 30 minutes, take 89A. It's absolutely worth it.
If you are driving from Southern Nevada or Southern California:
Just take I-15 all the way to exit 16 in Southern Utah and follow the signs to Zion. Your last chance to buy anything outside of Springdale is Hurricane (pronounced her-uh-kin). Gas and groceries will be cheaper there. It's almost too far to drive back once you get to the park, so if you like stocking up on groceries while on vacation, stop in Hurricane.
If you are driving from the North:
Head south on I-15 and take the Toquerville exit 27. Drive slow through the small town of Toquerville and make a left after about 6 miles.
Flying
If you want to fly you really have 3 options: St George (SGU), Las Vegas (LAS), Salt Lake City (SLC).
St. George is the closest by far, but it's a regional airport so tickets can be more expensive. Delta services St. George, and the airport is brand new so if possible, definitely fly in to St. George.
Las Vegas is the next closest at about 2.5 hours away. It's an interesting drive through the desert and then a beautiful drive through the Virgin River Gorge. Just follow the driving directions from Southern Nevada above. Car rentals tend to be inexpensive in Las Vegas, but there are no real onsite rentals. You have to take a shuttle to the car rental center, and two shuttles if you rent from an off brand agency.
Most major airlines fly into Las Vegas so finding a good deal should be simple.
Salt Lake City is another option that will work for some. It is nearly 5 hours away, but depending on your post race activities, it may be your best option. Utah is awesome, because at the end of March it's spring in the South but still winter in the North. That means ski season is still on! If you  plan on going North to Bryce Canyon or want to extend your vacation and take in some skiing, Salt Lake City might be your best option.
Salt Lake City serves most major airlines and is a Delta hub. Car rentals are cheap and the airport isn't huge so it's very easy to navigate. If you're driving down from the North follow the driving directions above.
Lodging
Vacation Races Campground
The most convenient (and fun) place to stay at the race will be the Vacation Races Campground, which we'll set up by the start line at Zion Ponderosa! The campground will be available Thursday through Sunday (Mar 30-April 2) and it costs $50 to reserve your spot. If you don't have a tent, then you can also rent one from us. It will be $100 for a 4 person tent and $130 for a 6 person tent. If you want to reserve a spot, please follow the instructions on
this blog post
.

What amenities are available?
All of Zion Ponderosa's amenities will be available to campers including bathrooms and showers. However there will be no RV hookups.
Hotels
Zion Ponderosa Ranch Resort has blocked off all lodging for race weekend to make booking easier for our runners! This will be a great place to stay during the race, as the race will be starting on site. They have a wide variety of lodging options including Vacation Homes, Cabins, RVs, and camping. Book online or call 1-800 293-5444. Just mention that you are with the Half Marathon, and their reservation team will take care of you and book the stay, based on availability.
Another excellent place in the area is Zion Mountain Ranch. Very close to both the start and finish, they offer a wide variety of cabins, perfect for your stay at Zion. Learn more on their website.

South Side
Springdale is still a great place to stay for our 2017 race. They have plenty of hotels, great shops and restaurants, and are right at the park entrance. Expect about a 45 minute drive to the start in the morning if you choose to stay on the west side.
Cable Mountain Lodge is a one minute drive from the entrance of the park. The rooms offer a distinctively warm atmosphere. This is a lodging experience to complement your discovery (or continuing re-discovery) of Zion.

Camping
If you're going to visit the park, we think camping is really the way to do it.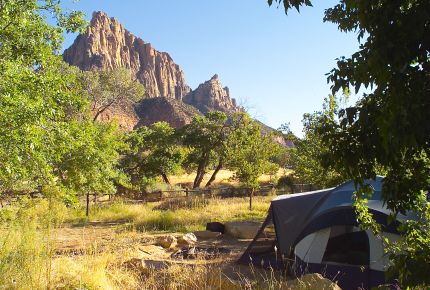 When it comes to camping at the race you basically have three options.
Zion Park RV and Campground (right at the finish line)
Watchman or South Campground (inside the park)
Zion Ponderosa Ranch Resort (right at the start line)
Zion Park RV and Campground
Aside from being right at the finish line, Zion Park RV and Campground is a great place to camp, especially if you're staying long term. On site they have showers, bathrooms, and a laundry room if you need it. Full RV hookups are available and they're right at the east entrance of Zion!
Watchman & South Campgrounds
These campgrounds are immediately inside the park on the South entrance. Reservations need to be made 6 months before your arrival date. You can make a reservation for Watchman by clicking here.
South Campground is available on a first come first served basis and is more primitive with no hook-ups at all.
Both of these are good options. It's tough to beat staying inside the park.
Zion Ponderosa Ranch Resort
You can also camp at the start line if you stay at Zion Ponderosa Ranch Resort. See their section above, right below hotels.
Restaurants
Dinner with Zion Ponderosa
Located at the Lodge, Zion Ponderosa Ranch Resort will be hosting a dinner Friday evening before the race, as well as Saturday evening after the Zion Half Marathon. These meals are pre-sold through the Zion Half Registration webpage through March, 30th by logging into RunSignUp and adding the meals to your registration! Just sign in to edit your registration here, then click "Add-Ons" and scroll down to the bottom of the page where you will find the dinners listed. Then, simply add the desired quantity* to whichever dinner (or dinners) you'd like to purchase! Click "Continue" and then you'll be taken to a page where you'll need to enter your credit card information to complete the purchase.
*Remember that the price for each dinner is per person. Make sure when you're entering the quantity that you purchase enough for everyone in your party.
Friday Evening: Spaghetti Dinner
$14.50/person
Served from 5-8 pm
Saturday Evening: Dutch Oven Dinner
$15.50/person
Served from 5-8 pm
Activities
Whether you are hiking the Narrows, tubing the Virgin River or biking the Pa'rus; Zion Outfitter can make your journey an experience of a lifetime. They have the latest information on trail conditions and have all the gear you would need to have a simple and enjoyable adventure inside Zion National Park.
145 Zion Park Blvd, Springdale, UT ‎
(435) 772-5090 ‎ · zionoutfitter.com